The Gingerbread Man Unit
Books

Bad Boys Get Cookie!
by Margie Palatini
Willy and Wally, set out to catch a runaway cookie, posing as incompetent detectives, Hansel and Gretel and more in Bad Boys Get Cookie!
The Bun: A Tale from Russia
by Marcia Brown
It's basically the story of the Gingerbread Man but it's about a bun instead.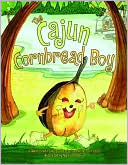 Down on the bayou in the heart of Cajun country lives a little old woman who is very lonely. One day, she decides to make a cornbread boy. Taking down her grand-mere's magical black iron skillet, she adds all the right ingredients, careful not to forget a big dash of cayenne pepper.
When the cornbread boy pops out of the oven, he blinks his chili-pepper eyes, sprouts arms and legs, and sprints out the door before the old woman can catch him. Through the swamp and past the creatures curiously sniffing after him, the cornbread boy runs until he meets an artful alligator who is in for one spicy surprise.

The Cajun Gingerbread Boy
retold by Berthe Amoss
Way down in Bayou LaRouche, a Cajun mawmaw bakes herself a gingerbread boy, who runs away, and is chased by everyone he meets. Told in a rich Cajun dialect, this interpretation has a removable gingerbread boy that easily slips from one page to the next so young readers can help him escape his pursuers.
Can't Catch Me
by John Hasset
In this frosty spoof of the tale of the gingerbread boy, a mother makes her thirsty boy an ice cube for his lemonade.
The ice cube escapes from the freezer and runs out the kitchen door. He has big plans-he wants to grow as big as an iceberg so he can bump into boats.
"Can't catch me-I'm off to the sea," the ice cube says to the boy, an ant, a mouse, a cat, a goose, a man, and a dog as he leads his pursuers on a merry chase to the sea. In the end, the ice cube finds that just desserts are not always sweet. And a thirsty boy discovers that mothers really do know best.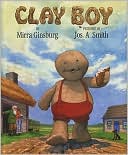 Clay Boy
by Mirra Ginsburg
Wanting a son, an old man and woman make a clay boy who comes to life and begins eating everything in sight until he meets a clever goat.
The Fine Round Cake
adapted by Arnica Esterl
A fine round cake escapes from the oven and eludes man and beast until it meets its match in the wily fox.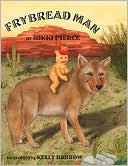 by Rikki Pierce
"Waaya Waaya! Iitsi Iitsi! Catch up with the Fry Bread Man as he runs from a caravan of characters in this witty southwestern version of the treasured classic "The Gingerbread Man."
The reader takes a wild gallop through a Hopi Indian Village with some of its inhabitants (an elderly couple, a jackrabbit, even a wile coyote) Culminating in the inevitable end to the tasty fellow they are all chasing.

The Gingerbread Baby
by Jan Brett
A young boy and his mother bake a gingerbread baby that escapes from their oven and leads a crowd on a chase similar to the one in the familiar tale about a not-so-clever gingerbread man.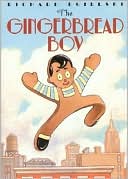 by Richard Egielski
A freshly baked gingerbread boy escapes when he is taken out of the oven and eludes his pursuers until he meets a clever fox.

The Gingerbread Boy
by Paul Galdone
Retells the popular story of a boastful cookie that runs away from a group of hungry people and animals.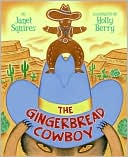 The Gingerbread Cowboy
by Janet Squires
The familiar tale of the gingerbread boy is given a western twist in this humorous parody. Baking biscuits was the rancher's wife's specialty and she was really good at it. But one day she decides to make gingerbread dough instead. She rolls that dough out and cuts it into the shape of a cowboy, complete with boots on his feet and a hat on his head. She adds a belt buckle of spun sugar, then some raisins, candies, and nuts, and puts him into the oven to bake. Expecting his biscuits, the husband opens the oven door and to his surprise a gingerbread cowboy jumps out.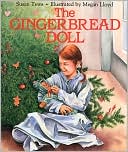 The Gingerbread Doll
by Susan Tews
Although her family's prosperity brings her increasingly nicer dolls as Christmas gifts, Rebecca is most fond of her gingerbread doll because it was made from love.

Ginger bread Friends
by Jan Brett
Confident and cocky, the Gingerbread Baby happens upon a bakery, where he dances and prances in front of a sugar cookie girl, trying to make friends. But she just stares and doesn't say a word, like all the other sweet treats he tries to meet.
Discouraged, the Gingerbread Baby runs home, chased by a long line of hungry creatures, where Mattie has a fantastic surprise for him-gingerbread friends that fill a giant fold-out page.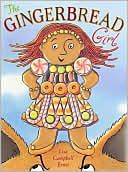 The Gingerbread Girl
by Lisa Campbell Ernst
Like her older brother, the Gingerbread Boy, who was eventually devoured by a fox, the Gingerbread Girl eludes the many people who would like to eat her but also has a plan to escape her sibling's fate.
by Owen Yearwood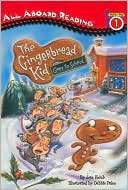 The Gingerbread Kid Goes to School
by Joan Holub
A silly twist on the classic tale. The school principal bakes a gingerbread cookie and brings it to school in his lunchbox. When the principal opens his lunchbox, the gingerbread kid winks and jumps off the desk. Where is he off to in such a hurry?

The Gingerbread Man
retold by Eric A. Kimmel
A freshly baked gingerbread man escapes when he is taken out of the oven and eludes a number of hungry animals until he meets a clever fox.
The Gingerbread Man
retold by Catherine McCafferty
The freshly baked Gingerbread Man escapes from the oven and outruns all those who try to catch him. But will he be able to avoid the clever fox or end up as his tasty snack?

The Gingerbread Man
retold by Karen Schmidt
The gingerbread man outruns everybody, until he meets the quick-witted fox.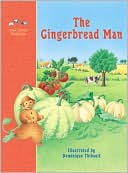 The Gingerbread Man
retold by Dominique Thibault
A freshly baked gingerbread man escapes when he is taken out of the oven and eludes a number of hungry animals until he meets a clever fox.

The Gingerbread Man and Other Tales
by Scholastic
A classic folktale about a gingerbread man who couldn't be stopped - until he met a fox.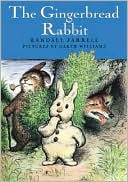 The Gingerbread Rabbit
by Randall Jarrell
Follow the gingerbread rabbit and the mother as they run through the woods finding adventure, new friends, and the best surprises of all.
The Jalopeno Man
by Debbie Leland
The gingerbread man with a Texas twist.
The Matzo Ball Boy
by Lisa Shulman
On the morning of the Passover seder, a lonely bubbe decides to make a matzo ball boy to keep her company. Soon delicious smells waft from the bubbling pot, and when she lifts the lid to see if the matzo ball boy is done, out he jumps. "Oy!" she cries. "And where do you think you're going?" "I'm off to see the world, bubbe," he replies. Before long, a yenta and her children, a rabbi, and a fox are all on a mad chase to catch the matzo ball boy !

The Matzah Man: A Passover Story
by Naomi Howland
Just before the Passover seder, a man baked from scraps of matzo dough escapes from the oven and eludes a number of pursuers until he meets clever Mendel Fox.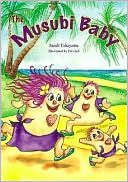 Musubi Baby
by Sandi Takayama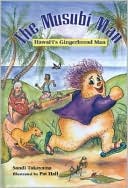 The Musubi Man: Hawai'is Gingerbread Man
by Sandi Takayama
A freshly baked musubi man escapes from the old woman's kitchen and eludes his pursuers in this Hawaiian version of the Gingerbread boy.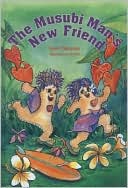 by Sandi Takayama
In the Musubi Man's New Friend the feisty ball of rice who outran and outwitted a pack of pursuers in The Musubi Man: Hawaii's Gingerbread Man makes a loveable friend and takes on a new challenge. In typical local style, he outsurfs his new pursuers, but soon he's running again --- with surprising results.
The Pancake
by Anita Lobel
Determined not to be consumed by the hungry children for whom it is being made, the pancake rolls out of its pan, beginning a chase that involves a mother, her children, and an assortment of animals.
The Pancake Boy: An Old Norwegian Folk Tale
by Lorinda Bryan Cauley
A retelling of the traditional Norwegian tale about the adventures of a runaway pancake.

The Picklepuss Man
by Thomas D. Kratzok
There once was an old man who owned a deli that was known for its sweet pickles. People came from all around to buy his pickles. One day the old man set out to make the best pickle the world had ever tasted. And that is when the fun began... The Picklepuss Man is a tasty version of the Gingerbread Man with a delicious ending.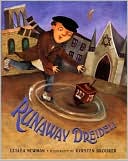 by Leslea Newman
A magical dreidel adventure.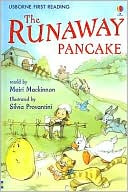 The Runaway Pancake
retold by Mairi Mckinnon
by Janice Levy
It's the Night of the Radishes and Don Pedro wants to carve the best radish sculpture in town. But one radish won't cooperate. It bounces away, looking for action! Places to go, people to see, it shouts. Out of my way, you can t carve me! So begins a raucous romp as everyone in town gets involved in the chasing of the radish who is trying to escape being made into a sculpture.
The Runaway Rice Cake
by Ying Chang Compestine
It's the Chinese New Year, and the Chang Family has only enough rice flour to make one nián-gão, a special New Year's rice cake, for the entire family to eat. But this delicious little nián-gão has other ideas. "Ai yo! I don't think so!" it cries, coming to life and escaping.

The Runaway Tortilla
by Eric A. Kimmel
In Texas, Tia Lupe and Tio Jose make the best tortillas - so light that the cowboys say they just might jump right out of the griddle. One day, a tortilla does exactly that. Mocking her pursuers, the tortilla runs through the desert, encountering two horned toads, three donkeys, four jackrabbits, five rattlesnakes, and six buckaroos. She dodges them all, but is finally outwitted by Senor Coyote in this flavorful twist on the classic tale "The Gingerbread Man."

by Daniel Kirk
"I'm a snow dude, Just as wild as I can be . . . Run as fast as you can- You won't catch up with me!" When Nick and Kara Candlewick build the snowman of their dreams, their wish for a real live playmate comes true. Soon their mischievous Snow Dude is on the run, dashing into town to raise a ruckus. Before long everyone has joined in the chase, but the Snow Dude can't be stopped-or can he? The Snow Dude has all the mischievous appeal of the Gingerbread Man.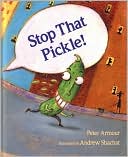 Stop That Pickle!
by Peter Armour
A pickle tries to escape being eaten by fleeing through the city streets, pursued by a variety of other food items.
Gingerbread Internet Links and Resources
Gingerbread Unit from Teaching Heart
Literacy Activities for Pre-K/K
Gingerbread Unit from the Virtual Vine
Gingerbread Man Math Activities
Printable Gingerbread Man mini-book
Gingerbread Man Story from Topmarks
Gingerbread Video from Speakaboo
Gingerbread Literature Activities
Gingerbread Boy Reader's Theater Script
Gingerbread Man Reader's Theater Script
Gingerbread Boy Reader's Theater
Listen to the GIngerbread Man Online
Online Gingerbread Man Book from Starfall
Oral Gingerbread Stroy from Storynory
"
This page in still under construction. I will be adding more information soon.